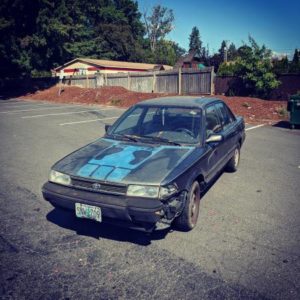 I had an old 1991 Toyota Corolla sitting on our property for years! We'd been wanting to scrap it but didn't want to deal with the hassle of finding someone to buy it for scraps.
Cash4Clunkers facilitated the entire process! All I had to do was make one quick phone call and the next thing I knew the car was gone and I had some extra cash in hand! – Gregory Stevens – Portland, OR
Is it Time to Junk My Car?
Have an old car that has been rusting and rotting on your property? Wondering if it's time to junk your car?
If you have been wondering what to do with that clunker car, truck, van or SUV in your possession we have a solution, and it doesn't mean settling for scrap metal or junkyard prices!
Cash 4 Clunkers connects you to premium auto buyers in your area so that you can get top dollar (cash!) for your car, regardless of its condition.
Whether your car is worth $100 or $100,000, there is a buyer out there!
Our buyers have been in the auto industry for over 35 years and with the help of Cash 4 Clunkers, we make the car selling process as easy as possible.
Not only do we get you CASH for your Junk Car, we get it towed away for FREE, in some cases in as little as 24 hours!
Our quotes are free with ZERO OBLIGATION!
Once you accept our offer (and we know your will because we always offer the most competitive price), we will do the rest and get a tow truck to pickup your vehicle and get you your cash.
Just fill out the form or call us and lets get that junker out of your way and get you some Cash in hand!
Get Cash for Your Clunker Today!