Each year 1.25 million people all over the world are struck and hit by cars and out of those, 40,000 are in the US alone.
Some would argue that self-driving cars could help reduce this number.
However, after Uber's fatal self-driving accident that killed Elaine Herzberg in Arizona when she was crossing the street has people questioning if and when this will happen again.
Why did the self-driving car not see Herberg crossing the street and stop? How can this be prevented from happening again?
This is where an Oregon-based company called Flir saw an opportunity to expand by equipping self-driving cars with heat-seeking cameras.
"Thermal cameras are really good at seeing the things you most don't want to hit," says Mike Walters, the head of product for Flir.
Conventional cameras look at visible light while Flir's cameras work on the infrared bit of the spectrum.
They can detect even the tiniest differences in temperature.
So tiny in fact, it can be as little as 0.1 degrees Fahrenheit – so something like the cold metal of a bicycle stands out, even on a chilly night.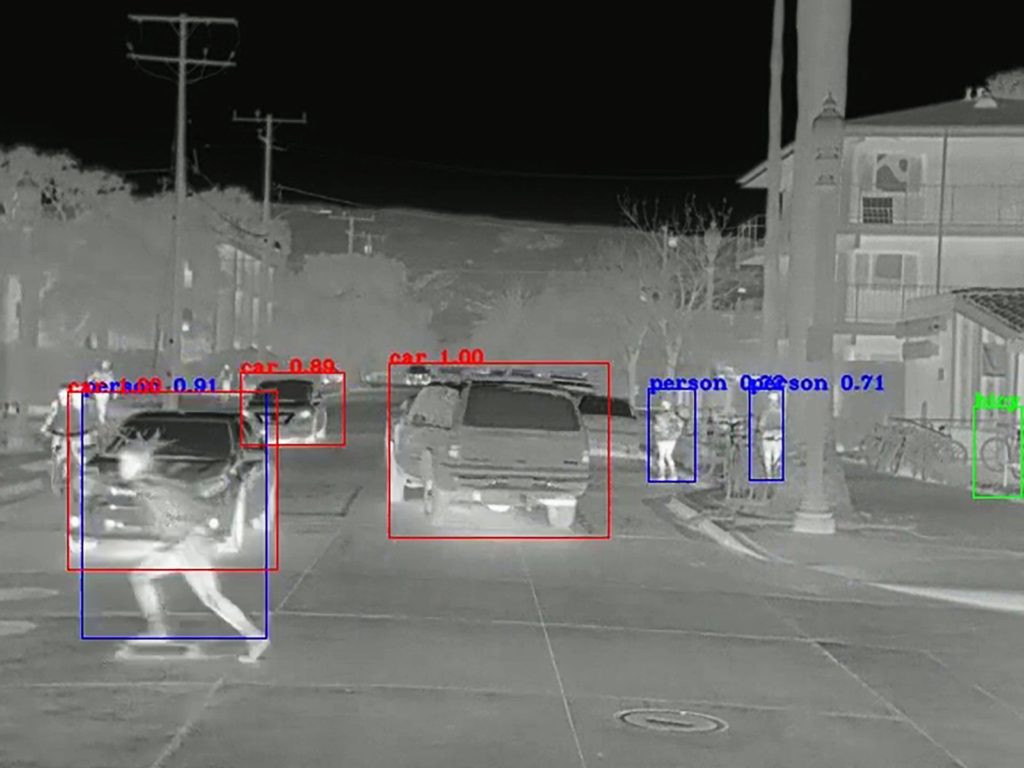 Furthermore, it can sense these tiny temperature changes from up to 240 meters away.
Current lidar systems sweat fog or direct sunlight but the technology that Flir is putting out does not.
These temperature-sensitive devices have already been used in items like heat-detecting missiles, detecting corroded fuses in electronics, finding people in burning buildings, and more.
And Flir isn't the only company making great strides and improvements in thermal imaging cameras.
"We made it to have the durability of automotive, the battery consumption so I can clip it onto a phone, the shock resistance calibration so it can go on a gun scope, the heat so it can deal with things like fire," says Tim LeBeau, who oversees corporate strategy for Seek Thermal, a Santa Barbara-based Flir competitor.
What he is trying to say is that he doesn't see how putting this on an automobile would be that hard.
Flir already has its cameras installed in about half a million cars such as the BMW 7 Series.
If an animal or person appears within a certain radius of the car, the driver would see a bright white object for whatever it is that is near the car to alert them.
So we already know that infrared cameras can identify objects near a moving vehicle and the next logical step is to get the self-driving car's computer to pick out those obstacles and react to them.
Flir hopes to produce a system that can use thermal imaging to automatically spot problems up ahead, alerting the driver or even applying the brakes as needed.
Keep in mind that these infrared cameras wouldn't replace existing radars, cameras, and lidars, but compliment them.
"A key benefit of thermal imagers are their complementary nature," says Karl Iagnemma, CEO of Nutonomy, a Boston-based self-driving car company acquired by automotive supplier Delphi last year. "They can perform in dark environments and during harsh weather conditions."
These infrared sensitive cameras are expensive – for example one piece can cost around $2,500 at the moment.
Along with focusing on fine tuning these infrared cameras, companies like Flir are also looking for ways to decrease the cost of manufacturing them, making them more affordable to the consumers and thus, more attainable on a larger scale.
Sell Us your Junk Car!