You may have a car around that isn't in the best of conditions or perhaps it just isn't running at all and you may have taken to Google to search for what you can do to "sell my car as is" and become frustrated by the results.
Selling a car "as is" can be difficult, especially if the condition of the car is on the poor side.
Many "as is" buyers have stipulations or hidden fees which can make it not really worth your time, or worth the money.
Whatever the scenario, we have a solution for you – Cash4Clunkers!
We buy cars in any condition, as-is, and we pay CASH – top dollar, without stipulations, hidden fees or surprises.
Keep reading to learn more!
Sell Your Car As-Is with No Hidden Fees
Lots of companies that say they buy cars as-is have "red tape" or hoops that you need to go through to sell you car.
They may bait you to come in only to low ball you and give you reasons why they won't pay top dollar for your as-is car.
For example, even though you are selling your car as-is, they tack on processing fees. Then, they may come back and tell you that the car isn't running, or find other small issues that justify their low-ball offer.
Another private dealer may accept your as is car, but charge you lots of fees for paperwork which is outrageous.
This is simply not the case with Cash Car Buyers like us.
When we say we buy your car as-in, we mean it – no hidden fees, no stipulations and no red tape.
All you have to do is tell us about your car and we will make a quick Cash offer.
Indicate any and all damage, as well as other details. The more information you provide, the better your offer will be!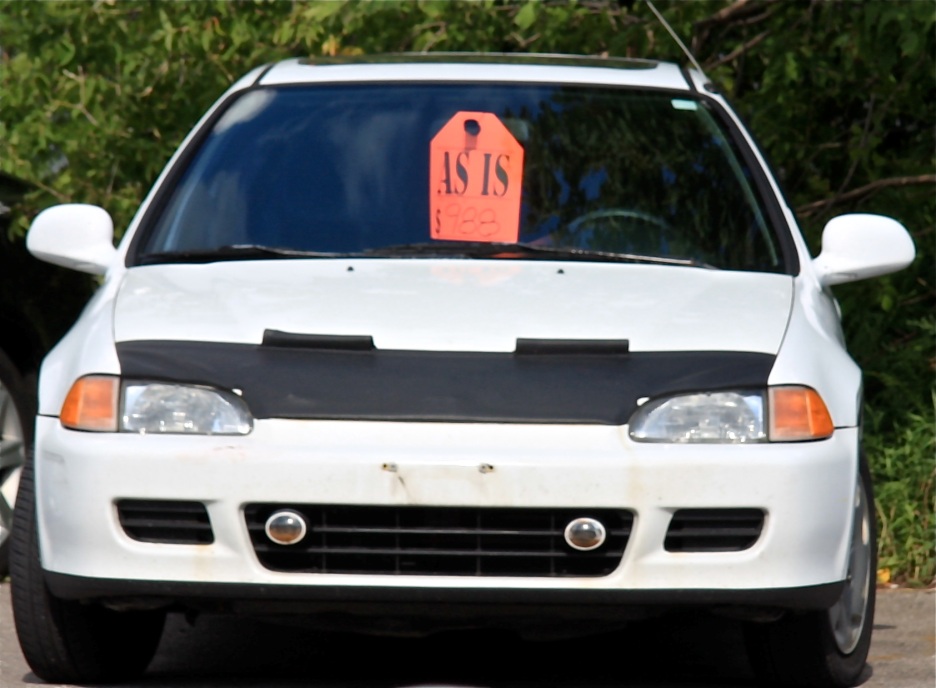 Sell Your Car As-Is with No Car Title
This is another issue that many sellers who have as-is cars run into – they don't have a title for the car.
Well, you are in luck because we buy cars without titles.
Yes, you read that right!
If you don't have a car title, we just ask that you have a current and valid driver's license and a valid car registration.
When you fill out our information forms, just mention that you don't' have a car title so we don't ask you for one later!
Many of our sellers don't have a car title and we work with them. We want to make this experience easy for you and we want to work with you.
Sell My Car As-Is Online
Selling your car online definetely gives you more reach towards potential buyers but it also gives you alot of work.
Many of these potential buyers will call, text or email you with all sorts of questions and from our experience, usually make low-ball offers on as-is vehicles.
Local buyers will want to come see the vehicle which means scheduling appointments and dealing with no-shows.
What if I told you you can sell your car online with us?
As mentioned above, just fill out our form and we will contact you with an offer, a Cash offer and we will pick up your car for FREE!
Sell My Car As-Is Locally with Free Towing
You can park your car on the side of the road with a big FOR SALE sign and hope to get a buyer.
You can also go to a local dealership to unload the vehicle only to find what we mentioned above, fees, low-ball offers, and frustration.
We work with buyers in every state who want your car now and we can connect you with a buyer who will pickup your car for free and pay cash!
We know that your time is valuable and we are here to help.
Sell My As-Is Car Now!
If the selling your AS-IS car has been daunting to think about, then you should consider selling the car to a Cash buyer like Cash4Clunkers.org.
With Cash 4 Clunkers, the shape your car is in makes no difference to us.
We've purchased even the clunkiest of clunkers that are not running and even had doors or windshields missing.
We've bought everything from like-new, to used, damaged, and even total loss vehicles.
But it gets even better, we will pick your car up for free and give you CASH in hand when we do so.
We have a large connection with local buyers looking for cars, trucks, vans and vehicles just like yours and our mission is to help you sell your car fast and easily and here is how:
Instant offers for your car (Running or Not) is something that many people want and to get started you simply fill out our no obligation Quote Form and we'll get you an offer FAST.
We Offer the Most competitive rates for Any Vehicle that you are not interested in Keeping – we will reach out with our offer.
After you've Received an Offer for your Clunker, Junk Car or Old Used car, You'll Have the Opportunity to Get Cash Quickly by setting up a pickup or drop-off time. Yes, we pickup for FREE.
Get Paid in Full for the Vehicle your Have Junked or Scraped!
Our network of agents is nationwide which means we can get to you in a matter of a day or two!
Another bonus to selling to us, is the fact that you can get an instant offer on your car!
Simply enter your car's details, and you'll have an offer on your car FAST!
Sell Us your Junk Car!